NORTHERN ITALY VACATION
In August 2011 Lee & Kathe took their first trip to Italy, one of their top travel destinations. We wanted to spent quality time in several places so we settled on four cities over ten days: Venice, Cinque Terre, Isla d' Elba, & Florence. We wanted to see the real Italy vs taking a train, so we were fortunate to have our good friend Antonio Pellegrino loan us his restored 1971 Karmann Ghia to drive throughout our Italian vacation. Our favorite location was Cinque Terre.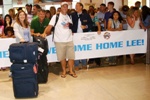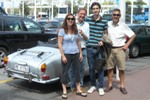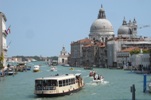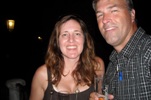 VENICE: After a 14-hour flight we were met at the airport by members of the Karmann Ghia Club Italia led by Antonio who had visited with us last summer. We took a water taxi into Venice and dragged our luggage several blocks to our B&B Ponte Chiodo in Cannaregio. Our B&B was oustanding, clean, comfortable, & nearby to restaurants & tourist spots. But Kathe blew-up her hair straightening iron using the 220V converter so she was forced to have wavy hair for the entire trip. We took 1 Euro gondola rides across the Grand Canal during our walking tours. With temperatures in the 80s & 90s meant we were taking lots of breaks and gelato was our favorite snack break with so many delicious flavors. We explored downtown tourist-clogged Venice, took a shuttle to an island for a bird's eye view of Venice, and then finished up with a relaxing boat ride up the Grand Canal. Our last night in Venice began with an expensive gondola ride through the tight backstreet canals then had a great dinner on the Grand Canal.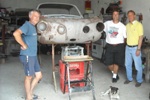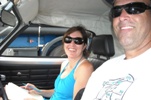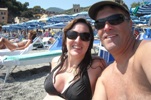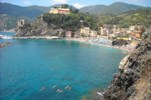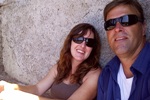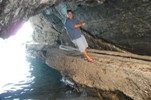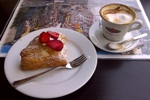 CINQUE TERRE: Antonio picked us up in Venice and drove us back to Vicenza to get the Karmann Ghia. We visited his good friend Daniele to see Antonio's T34 restoration work. Then we spent a couple hours diagnosing an electrical problem with the KG before setting off for Cinque Terre at 1pm. We learned that his KG didn't have seat belts installed, and Kathe was extremely uncomfortable during the driving. The 150mph cars screaming down the two-lane highways didn't help her comfort level either. But we had no problems during the 10 day trip. We stayed in the scenic village of Vernazza and our rental condo was in the center of town right below the castle tower. The tiny harbor was incredibly beautiful with the deep azzure blue ocean water, green steep hillsides, and brightly colored walls. We hiked two strenuous hours north to Monterossa then played in the water before taking the water shuttle back. We took the train to the other villages then walked the Via della Amore path from Riomaggiore to Manarola. We had a nice sunset dinner at the Belforte castle restaurant with fresh fish & seafood. After three days in Cinque Terre we drove south and met with a Karmann Ghia owners group in Cecina. Then we continued south to the ferry at Piombino which took us over to the Isla d' Elba island.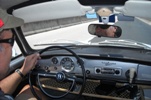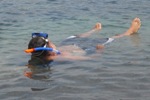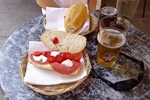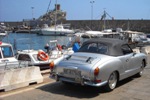 ISLA D' ELBA: Elba was a quiet simple laid-back island and our Hotel Dino was really nice overlooking the water. Our private beach allowed Kathe to relax in the sun & for Lee to snorkel in the clear warm water. We had a great sunset dinner at Innamorata with octopus, steak, & fresh fish. Shopping in Rio Marina was fun before we caught the ferry in Rio Marina back to the mainland en route to Florence.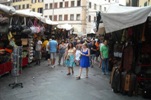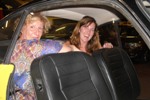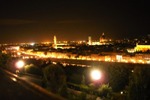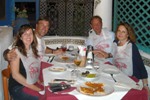 FLORENCE: We stayed at a cute tiny B&B Arco Antico with a tiny elevator that barely fit both of us. We met Karmann Ghia owner Massimo Melai & his wife for an upscale very expensive dinner (wild boar & pasta) and packed inside their KG for a tour overlooking the city at night that was simply stunning glowing in golden lights and standing underneath a statue of David by Michelangelo. We explored the Natural History Museum, walked the monuments & historic churches & museums. We toured Galileo's museum, saw the famous bridge Ponte Vecchio, and shopped for the kids gifts. We left for the three-hour drive back to Vicenza later that day. After a hilarious car wash (where we got soaked!) when arriving in Vicenza, we met Antonio & his wife for an incredible fresh lobster & pasta dinner. Kathe flew home to San Diego & Lee flew to Germany for the T34 50th Anniversary.