PUAKO HAWAI'I VACATION 2013
We decided to take our Spring Break vacation time on the Big Island of Hawai'i without the kids. It was our first time on the Big Island, having visited Maui in 2006. The flights cost $900 each and went from San Diego to San Francisco to Kona. We chose to stay in Puako, a tiny village of beachfront homes on the Kohala Coast, north of Kona. Puako is where Lee's good friend Jon House has a home. We were fortunate to rent a beachfront place for $175/nite with the open ocean only steps away from our front door. Jon provided his Toyota Prius for us to explore the island. The beach was sandy with lava rocks forming a series of shallow pools with fish, urchins, sea cucumbers, & sea turtles. We bought fresh tropical fruit (papaya, mango, bananas, pineapple) for our breakfasts. We walked to the nearby Puako Store for cold Hawaiian Kona Brewing Company beer & morning Kona coffee.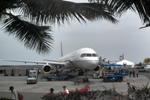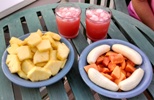 Our first day (below) was spent shopping for food at a Kona farmer's market then checking into our place. Our first sunset dinner was at the Mauna Lani resort Brown's Beach House. Our table had a fantastic unobstructed view of the sunset with the palm trees & ocean. Kathe had two lobsters & Lee chose fresh amberjack fish. Later that evening Jon took us to the Blue Dragon, a nightclub playing tango music.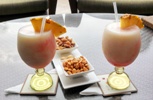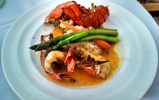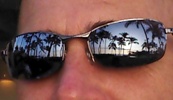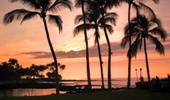 Our second day (below) was a long driving trip across the island to Hilo. Based on Jon's tip we stopped at TEX Drive-In for malasadas, sweet dough squares rolled in white sugar, which were sinfully delicious! Then we headed north to Waimea and then to the northern coast which was lush green pastures. After two hours we ended up at Akaka Falls. This was a lush rainforest preserve with a 300 foot waterfall and beautiful paved walking trail. We discovered a native salamander, slug, & bright green anole lizard along the walk. Then we headed south into Hilo for a nice traditional Hawaiian lunch at Ken's Pancake House (Crab Cakes with Eggs & Hash Browns and Corned Beef Hash Moco). After lunch we visited the nearby Mauna Loa Macadamia Nut factory and got to tour the production area and taste the nuts. We took the backside of the volcano road called Saddle Road, which was a barren landscape with fog & light rain, which connected at Waimea.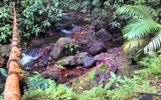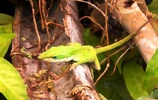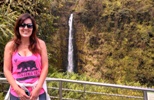 Our third day (below) was a relaxing one. We ate breakfast on the deck and Kathe laid in the sun watching our Gold Dust Day Gecko friends. Then we explored the tide pools and swam in the currents near the sea turtles, cutting our legs on the sharp coral & lava rocks. Kathe had a nice spa day at Spa Without Walls at the Fairmont Orchid resort, with a Papaya Pleasure (massage & papaya lotion and a Green Tea facial). Lee rented a Harley Davidson Street Glide and road for a couple hours around the coffee plantations south of Kona with Jon & his buddy Bill. Before dinner we had a six-pack of Longboard Lager down at our beach to watch the sunset and we watched Jon's two cats frolick along the shore and saw a gang of wild turkeys in Jon's yard. Then we shopped at the Queen's Stores in Waikaloa ate late at Lava Lava Beach Club with terrible service but excellent fresh fish meals.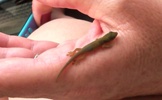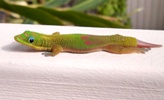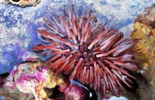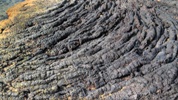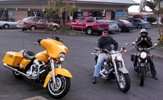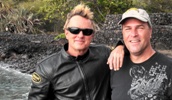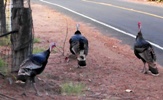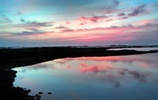 Our fourth day (below) was a beach day. We started at nearby 69 Beach (located at mile marker 69) which was a shady sand beach with lava rocks in the water which created a great snorkeling reef. Then we ate lunch with Jon & Annie at a fish truck which was the best lunch of our trip. Then we visited Hapuna Beach with waves and a long sandy beach. Dinner was great steaks at the Canoe House in the Mauna Lani resort.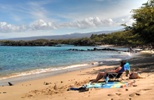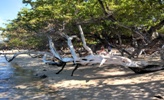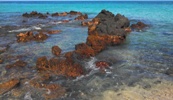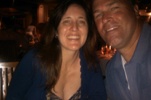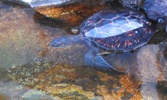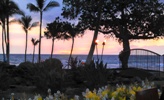 Our fifth day (below) began as a great day exploring the Mauna Kea resort just north of Puako. This resort is our favorite with a sandy beach with rental equipment, lunch restaurant & bar right at the beach, and friendly service. Then we drove south to Anaeho'omalu Bay next to the Waikaloa resort. This was a sea turtle paradise and we created a stacked coral statue on the black lava rocks. Then Jon took us on a long drive up north to the cool little town of Hawi through the lush landscape with huge cattle ranches and then down into Waimea for a mexican dinner at Big Island Brewhaus with great local beers. Our favorite during our trip was LavaMan Red Ale.